Cameras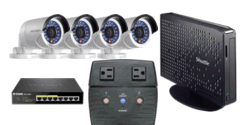 AirportView.net (TM) pulls live weather images from our own weather camera systems across the USA. We have installed cameras at public and private airports. Each installation uses multiple cameras, pointed skywards, to provide images of current weather conditions. View recent weather history in the form of time-lapse sequences spanning the last 1, 2 or 4 hours. The same camera systems, and a share of the income they generate, can be yours to manage.
Our kit includes four high-resolution cameras and the essential networking gear. Install one of these kits at a local airport. You will have access to a set of dedicated airport pages dislaying your camera images on AirportView.net. Simply contact local businesses to sell ads for these pages and post them on our state-of-the-art Ad Manager system.
We can help and advise you every step of the way. If you love aviation and want to get involved in the business of it, give us a call today to talk about a complete Weather Camera System from Airport View. Or use our online request form below.
Call 970.203.0505 Today.